Our quality subcontract laser marking Services saves you time and money.
We laser mark your products from Sheffield or in your factory. You decide what makes sense to you.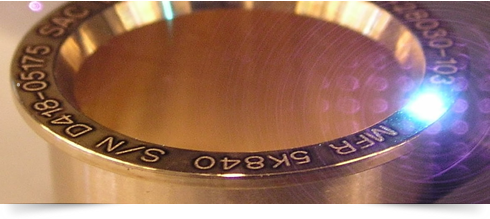 Neolase offers a classic subcontract laser marking service from Sheffield, UK. This service is simple and efficient and suits a lot of companies that want to test a marking, have small quantities or are simply not willing to invest in the purchase of a laser marker. Regardless of your position we will make you gain access to this top laser marking technology with our sub-contract laser marking service.
How does it work ?
We make some samples
Upon your approval, we quote you on a per item basis (we call it "PAY AS YOU MARK")
We can start marking your parts immediately. We are flexible, we will always make it as cost efficient as possible for you.
Mobile Laser Marking Subcontract Services
We also offer a mobile laser marking service whithin the UK. This service is even simpler ... since a Neolase experienced staff will come to your site to mark the parts. This is particularly efficient for bulky, large, one-off batches, sensitive parts, etc.
We also charge on a per item basis ("PAY AS WE MARK") for this service.
You decide